Balestier Press Digital Exhibition
@ Frankfurt Digital Book Fair
October 2020 – June 2021
Catalogue (October 2020-March 2021)
World Literature
Picture Books and Graphic Novel
Young Adults
Memoir, Travelogues, Non-fictions
Humanities and Social Sciences
Rights catalogue (October 2020)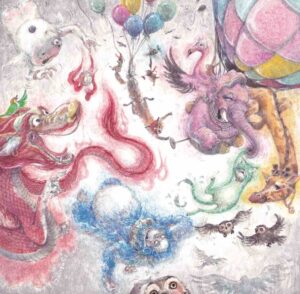 The Enchanted Bells: Marco Piccolo's Musical Adventure
Story by April Chung, illustrations by Li-Ling Chen
Dreamy like picture book about a musical adventure of Marco Piccolo.
A book full of illustrations trying to arouse love for music in its readers.
There is also a game element of the story for children to enjoy. Will they be able to find names of famous music composers hidden in the pictures?
Sleepy, Sleepy New Year, story and illustrations by Meng Yanan (Bronze and Sunflower Picture Book Award), translated by Izzy Hasson (Winner of the 6th Bai Meigui Translation Competition)
Bao Bear has never heard of Chinese New Year. He decides to invite the Fox, Mouse, and Bunny families together to learn more about this celebration. However, as the end of autumn nears and Bao Bear gets sleepier, can he stay awake to find out?
(English, with original Chinese text at the end)
The Chilli Bean Paste Clan, by Yan Ge, translated by Nicky Harman (Winner of English PEN Translates Award)
"If you're like me, the first thing you did before the bookshops got locked down was acquire an additional stack of tsundoku to hopelessly work your way through until society collectively got-well-soon again. The best thing I've come across so far is Yan Ge's The Chilli Bean Paste Clan (pub. May 2018). Ge, an already prolific author from Sichuan, is just starting to see her work introduced into the English-speaking world in earnest. She published White Horse, a relatively slight novella, in 2014, and The Chilli Bean Paste Clan in 2018. She has a highly anticipated forthcoming novel—The Strange Beasts of China—coming out later this year. …" (Book Review by Geoffrey Waring)
Facebook page: https://www.facebook.com/ChilliBeanPasteClan/