Recent Awards
The Archaeology of a Dream City by Monica Raszewski, shortlisted for the UTS Glenda Adams Award for New Writing from the NSW Premier's Literary Awards 2022.
Flowers of Lhasa by Tsering Yangkyi, translated from the Tibetan by Christopher Peacock, received an English PEN Award (PEN Translates 2021).
Jean Pasley (author of Black Dragonfly), co-writer of the film The Bright Side, won The Audience Award at Cork International Film Festival 2020.
The 6th Bai Meigui Translation Competition (Sleepy, Sleepy New Year, by Meng Yanan, translated by Izzy Hasson).
Xu Xiaobin (author of Crystal Wedding and A Classic Tragedy, translated by Nicky Harman and Natascha Bruce) nominated the 2019-2020 Newman Prize for Chinese Literature.
Natascha Bruce (translator of Lonely Face by Yeng Pway Ngon) received the 3rd prize of John Dryden Translation Competition, and the short-list in 2019-2020 Society of Authors TA First Translation Prize.
Chia Joo Ming (author of Exile or Pursuit, translated by Sim Wai Chew) received (South East Asia) SEA Write Award, and Singapore Literature Prize 2020.
Roger Pulvers (author of Half of Each Other, Liv, The Honey and the Fires, The Dream of Lafcadio Hearn, Peaceful Circumstances, My Japan: A Cultural Memoir, The Unmaking of an American and translator of Night on the Milky Way Train by Kenji Miyazawa) awarded 2019 "The Order of Australia" for his significant service to Japanese literature and culture as a writer, translator and educator.
Frankfurt Book Fair Invitation Programmes 2019.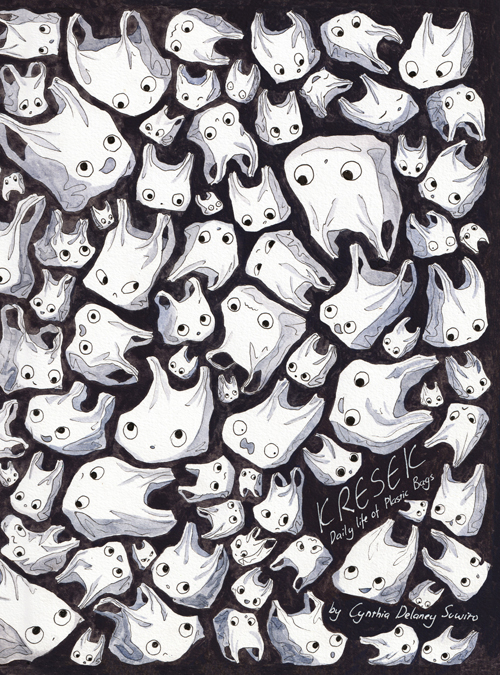 Kresek, Daily Life of Plastic Bags. by Cynthia Delaney Suwito. Kresek is the rustling of plastic bags in Bahasa Indonesia. It is also the title of this light-hearted wordless comic, revolving around the little movements of the plastic bag.
This book offers a fresh perspective of the plastic bag by giving the common object a face and a personality. Following the earthly adventures of the plastic bag, this book invites people to give the plastic bag more thought, connecting to it and examining its place in today's cultures. When we have hopefully passed the plastic bag obsession in the future, this book will be a reminder of a behaviour that we once had.
Sleepy, Sleepy New Year, story and illustrations by Meng Yanan (Bronze and Sunflower Picture Book Award), translated by Izzy Hasson (Winner of the 6th Bai Meigui Translation Competition)
Vacant Steppes, by Steven Sy (September 2021), Book event at Singapore Writers Festival 2021.
The Chilli Bean Paste Clan, by Yan Ge, translated by Nicky Harman (Winner of English PEN Translates Award)
"If you're like me, the first thing you did before the bookshops got locked down was acquire an additional stack of tsundoku to hopelessly work your way through until society collectively got-well-soon again. The best thing I've come across so far is Yan Ge's The Chilli Bean Paste Clan (pub. May 2018). Ge, an already prolific author from Sichuan, is just starting to see her work introduced into the English-speaking world in earnest. She published White Horse, a relatively slight novella, in 2014, and The Chilli Bean Paste Clan in 2018. She has a highly anticipated forthcoming novel—The Strange Beasts of China—coming out later this year. …" (Book Review by Geoffrey Waring)
Facebook page: https://www.facebook.com/ChilliBeanPasteClan/
Lonely Face, by Yeng Pway Ngon, Translated from the Chinese by Natascha Bruce. (TA First Translation Prize 2019-2020 Shortlist)
Singapore, late 1980s. As women gain power and independence, what's an insecure guy to do? Lonely Face is the story of a man on the cusp of middle age, left behind by changing times. Fleeing his crumbling marriage on an overnight bus to Genting Highlands, he tries his luck at slot machines rather than the vagaries of modern romance. This snapshot of a society in flux is a newly-translated early work by acclaimed novelist Yeng Pway Ngon, Cultural Medallion recipient and three-time winner of the Singapore Literature Prize.
Costume, by Yeng Pway Ngon, Translated from the Chinese by Jeremy Tiang. (Singapore Literature Prize)
"Helpless before the heavens we part, what sorrow, what rage; the farewell heart clings to the drooping willow, goodbye tears splash the flowers—The old man struggles to remember the lyrics to Revisiting the Long Pavilion Willows, humming bits and pieces. It's been too long since he's sung anything, too long since he heard this tune…" Read the excerpt from Words Without Borders.
The Pidgin Warrior, by Zhang Tianyi, translated by David Hull
"Satiric brilliance and unusual comic verve." — C. T. Hsia, A History of Modern Chinese Fiction
In the 1930s, wartime Shanghai is a cosmopolitan metropolis where conmen and dance-hall girls mingle with refugees streaming in from the occupied areas. One of those refugees is Shi Zhaochang. Having read too many gongfu novels, he is convinced that only an elite martial artist with magical powers can save China. He flees to Shanghai on a quixotic search for a gongfu master who can teach him the secret techniques that will make himself that warrior. The fate of China itself hangs in the balance, and everyone has a scheme to save the nation, or at least get rich trying.
The Pidgin Warrior is a rollicking satire of nationalism and modernity that is remarkably relevant today.
Poems 2020, Translation from Russian, Polish and Japanese, Notes and Commentary by Roger Pulvers
The year 2020 was the year the world turned inward. We may have stayed at home, but this was a time to look deeply inside ourselves to find connections that we carry in us with all people all around the world.
The poets appearing here describe not only affairs of the heart but also upheaval and revolution, exile and betrayal, and encounters and events that are often brimming with hilarity and wit, proving without a doubt that poetry is the lifeblood of a nation.
New Books
Tsering Yangkyi's novel paints a vivid portrait of Lhasa, Tibet's cultural and religious capital. This is a holy city where thousands of pilgrims daily circumambulate the Potala Palace and the Jokhang Temple, but it is also a modern city, with all the problems of the modern world. While immersing us in the vibrant uniqueness of Tibetan life, Flowers of Lhasa also paints a haunting picture that deals with global and timely concerns.
"Deftly translated into an English with fittingly South Asian inflections, this timely anthology surprises and delights. Certain themes and imagery traditionally coded feminine, such as flowers and fabric, recur with surprising and thought-provoking variations in their treatment, while frequent references to characters from Islamic and Hindu mythology point to the lived experience of a shared cultural inheritance. Though demonstrating an impressive range, with poets based in Bangladesh and abroad, writing from the full 50 years since the country's creation, this is clearly only a glimpse at a wealth of literature which, it is to be hoped, other publishers will now be inspired to seek out." — Deborah Smith (Translator of The Vegetarian by Han Kang)
'This intense, evocatively translated novella takes us into the beating heart of a mountain community as it examines hopes, aspirations, and betrayed dreams. Truly, a song of the soil, it carries the breath of life in it.' —Namita Gokhale
'A thing of beauty—and an important book that deserves to be read in many languages.' —Prajwal Parajuly, author of The Gurkha's Daughter
The Blood of Gutoku by J. W. Traphagan (September 2021)
"If you are a fan of Clavell's Shogun looking for another entrée to Japanese culture in the form of a rattling good yarn, look no further!" (Kelly Smith, Clemson University) "Retired anthropologist Jack Riddley helps police in rural Japan solve a perplexing mystery. In so doing, he reveals much about both Japanese culture and the nature of anthropological inquiry. Beautifully written, engaging, and insightful, this book is a winner." (Richard Scaglion, University of Pittsburgh)
More than One Child — Memoirs of an illegal daughter by Shen Yang, translated by Nicky Harman (September 2021)
'This is the voice of China's Invisible Generation – vividly written, well balanced, brilliant, humorous and very sharp – it elicits a rollercoaster of emotions that breaks through the silence shrouding the lives of excess children born during the One-Child Policy.' ––Xinran (Author of The Good Women of China) (Featured in The Guardian Books: Going places: The international authors to read this summer July 2021)
Black Dragonfly by Jean Pasley
"A lavish, beautiful testimony to the life and achievements of Lafcadio Hearn, the writer who opened our eyes to Japan's intricate, extraordinary art and literature, and to its rituals, sometimes exquisite, sometimes scarifying, always uniquely the country's own. Pasley is a true writer, and Black Dragonfly a book to read and remember." — Frank McGuinness (Playwright)
Wholly Esenin: Poems by Sergei Esenin, Translated from the Russian, Notes and Commentary by Roger Pulvers.
Exile or Pursuit, by Chia Joo Ming, Translated from the Chinese by Sim Wai Chew. (Singapore Literature Prize 2016, Winner of Southeast Asian Writers Award)